As negotiations at the United Nations climate change summit run into their last stretch after nearly two weeks of deliberations, top world leaders took a brief pit stop to savor food prepared sustainably, by two of the country's top chefs.
Gaston Acurio, world-renown for elevating the country's cuisine internationally, and Virgilio Martinez, whose restaurant Central topped British Restaurant magazine's list in Latin America this year, spoke about increased awareness amongst chefs towards climate change.
"In Peru, where one million small farmers are really worried about what is going to happen in their lives, chefs, as their representatives in the cities, try to share these concerns with others, not only through how we prepare dishes, but to talk about finding solutions to mitigate the climate changes," Acurio said.
The two chefs cooked on energy saving wood-burning ovens, for the secretary general of the United Nations, Ban Ki-Moon, UNFCCC chief Christiana Figueres and Peruvian environment minister Manuel Pulgar-Vidal.
Acurio prepared a cebiche for the dignitaries, using mushrooms instead fish, which he explained was regionally under threat from the effects of more frequent episodes of the El Niño phenomenon.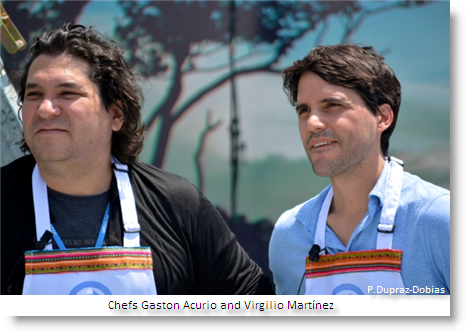 The national marine institute, Imarpe, earlier this week recommended suspending anchovy fishing for a second season, due to warm seas. The World Meteorological Organization (WMO), which last week announced in Lima and Geneva that 2014 was the hottest year on record, says steady sea warming "has resulted in ocean surface temperatures reaching weak El Niño levels."
Peru is considered amongst the more vulnerable countries in the world due to glacial deterioration, seasonal flooding and drought.
Delegates at the summit report that official discussions have been slow, surrounding the draft text to be submitted to next year's conference in Paris, which will define international climate guidelines for after 2020.
However, United States envoy Todd Stern told journalists Wednesday that slow deliberations were "not shocking at the COP. This happens at the COP".
US Secretary of State John Kerry is expected to speak at the COP20 on Thursday, to "share his views", Stern said.
At the start of the international summit,Acurio wrote in a Peru21 editorial that there was need for "fewer words and more action" at the talks.
"Decision-makers have the opportunity to confront reality and this time do it without fear, to look into the mirror of the system that we created and to not shun the damage that we have caused to Earth, our home," Acurio said.