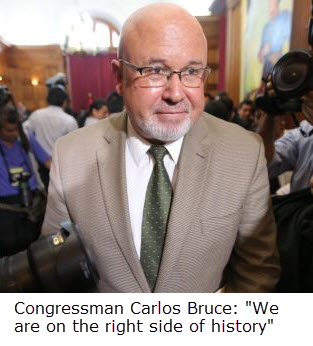 A congressional committee on Tuesday voted down a bill that would have allowed civil unions between same-sex couples, after a leading Catholic bishop  lashed out at the gay lawmaker who drafted the legislation with a homophobic diatribe.
After a three-hour debate, seven members of the Congressional Justice and Human Rights Committee voted against the legislation; four voted in favor and two abstained, according to RPP Noticias.
"We have defended the natural family, as enshrined and recognized in our Peruvian Constitution," said Congressman Julio Rosas, of the opposition, right-wing Fuerza Popular party. "This is supported by the large majority of our Peruvian society."
Carlos Tubino, another Fuerza Popular lawmaker, called the vote a victory for Peru. "Today, the people of Peru have won," he said.
The debate over the legislation heated up in the days leading to the vote, with opponents and supporters holding separate protests. The legislation, proposed by lawmaker Carlos Bruce, faced stiff opposition in a conservative country where the Catholic Church still plays a strong role in public and private life.
Monsignor Luis Bambarén, Bishop emeritus of Chimbote, told Peruvian media that he strongly opposed the legislation, and called Bruce a "maricon," Spanish for "faggot."
"Congressman Carlos Bruce is making a fool of himself with all of this, appearing – excuse me for the term –  like a faggot in the middle of everything," said Bambaren. "He himself has said he is gay. Gay is not the Peruvian word, the word is faggot ."
Bruce responded that the bishop's comments "reflect the hate that is typical of homophobia," and said he was disappointed a representative of the Catholic Church, apparently lacking arguments, now resorts to insults."
Bruce added that Bambaren's statement is not in line with the position of Pope Francis. "It bothers me that he insults 3 million Peruvians who share with me the same orientation," Bruce said. "I hope he apologizes."
Bambaren did just that after the committee vote, issuing a written statement. "I respect and embrace those born homosexual and ask the same of their families and society," the statement said. "If homosexual people felt offended, I apologize and I pray for them."
Proponents of the proposed legislation say it is just a matter of time before Peru allows for same-sex civil unions. Lawmakers who voted in favor the of the bill said they would resubmit another bill in Congresses next session.
"Today, you have seen which lawmakers are backwards, those that want to deny the rights of others, who feel superior and consider that there are Peruvians of a second class," Bruce said after the vote. "We are on the right side of history, and we are sure that this is going to be approved."