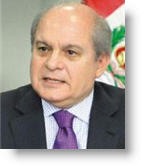 Defense Minister Pedro Cateriano says Peru's government is to increase security along the country's major gas pipeline in the eastern Amazon, following an outcry by the private sector concerned about attacks by a splinter group of Shining Path rebels.
Cateriano said he has met with executives from Transportadora de Gas del Peru, TGP, after an attack last weekend by rebels who burned three helicopters used by the company.
"We have decided to immediately increase resources along the principal sensitive points for the pipeline's operations," Cateriano said, according to state news agency Andina.
"Following the meeting we've had with the company's board of directors, we are going to turn this page immediately and work for the security and the operational capacity of the gas pipeline," he added.
A group of Shining Path remnants set fire to three helicopters on Saturday at a small airport in the jungle village of Kiteni, in Peru's southern Cusco region. The helicopters provide transport services to the companies in charge of maintenance to the pipeline that moves gas from the Camisea gas fields in the Madre de Dios jungle to Peru's coast.
TGP said after the attack that it was suspending maintenance on the infrastructure due to the security concerns. It also said the attack created risks for the supply of gas to the Peruvian coast, where it is used to generate electricity for industries and a growing percentage of the population.
Earlier in the year, a pipeline maintenance crew, working for TGP and Argentina's Tecpetrol, were kidnapped by Shining Path rebels and released within the week, following alleged negotiations. At the time, an unsuccessful attempt by military and police to rescue the hostages resulted in police casualties, and caused the resignation of the ministers of Defense and Interior.
TGP is a private consortium led by Argentina's Techint and includes US-based Hunt Oil, Algeria's state-owned Sonatrach, Argentina's Pluspetrol, South Korea's SK, France's GDF Suez-Tractebel, and Peru's Graña y Montero.
Analysts disagree about the motivation of the attack. Some observers say it is linked to the drug trade and the Shining Path's control of trafficking routes, which are close to the pipeline infrastructure. Others believe it was politically motivated, that the Shining Path wants to hurt the government by attacking a key energy project.
On Wednesday, however, newspaper La Republica said it reviewed a document left by the Shining Path after the attack on Saturday. According to the daily, the Shining Path said the attack was retribution for the Camisea consortium's refusal to make protection payments to the rebels.