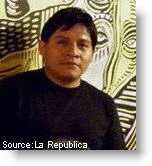 A Peruvian journalist, who was imprisoned for hacking into the emails of government officials, has been released, local media reported.
The case against Rudy Palma, a former business reporter at newspaper Peru. 21, is expected to continue while he is under house arrest.
Palma is accused of hacking into the emails of officials who worked at the Ministry of Economy and Finance and the Ministry of Foreign Trade and Tourism, in addition to other government agencies, while he was working at Peru. 21. Among the documents he allegedly retrieved were minutes from a cabinet meeting and the draft of a fisheries agreement with Venezuela, which could be considered secret documents. He admitted to hacking into the emails of five cabinet ministers and other officials.
Initially, Peru.21's economics editor, Gina Sandoval, was also included in the investigation but the judge on the case was being investigated by the magistrates council, OCMA, for possible irregularities in ordering her arrest. 
After leaving the Piedras Gordas 2 prison on Tuesday, Palma was reported as saying that he "had a lot of time to think about what happened," adding that his actions were an "error and wrong, which I have recognized."
Newspaper La Republica reported that Palma plans to continue working in journalism, although it did not provide further details.
"I am very happy with my friends and family that supported me. I'm relaxed now that I am going to be with my parents," Palma was reported as saying.