President Alan Garcia is expected to announce the closing of free trade talks with Japan and South Korea during his trip this week to Asia, to join the APEC Leaders' Week in Yokohama of the Asia-Pacific Economic Cooperation, state news agency Andina reported.
Peru has completed negotiations for the FTA with both countries and is awaiting legal revision and the final signature, Foreign Affairs minister Jose Antonio Garcia Belaunde said.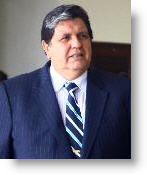 Garcia's trip to Japan and South Korea is planned  November 11-17. He will first visit Japan, where he will hold talks with the prime ministers from Thailand and Australia during the APEC meetings, before heading to Seoul.
Peru already has free trade agreements with Singapore, Thailand and China, the United States and Canada, all Pacific Rim countries. It also has s most important FTAs are with the United States, Canada and the European Union.