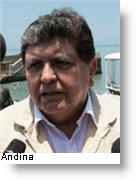 With only five months left in his term, President Alan Garcia's approval rating has fallen to 27 percent, the lowest level since 2008, according to a recent poll by the Catholic University's (PUCP) Institute of Public Opinion.
Garcia's rating dropped almost 10 points from the December 2010 poll when he had 36 percent support. Garcia's lowest point came in September 2008, when approval fell to 19 percent following clashes between indigenous protesters and police on a remote highway in Bagua, in Amazonas department.
The approval rating is lowest in rural Peru, at only 17 percent, and highest in capital Lima and neighbouring port city of Callao at 40 percent.
Distrust of Peruvian institutions continues among the public. Eighty-six percent of those surveyed said they distrust Congress, while 83 percent said they distrust the government and political parties and 82 percent said they are distrustful of the judiciary.
National identification registry Reniec enjoys the greatest trust among residents, but it is still only at 55 percent, according to the poll. The Catholic Church has 50 percent support and the media has 45 percent.
The national poll of 1,570 people was taken from January 29-February 3 and has a margin of error of +/- 2.47 percent.