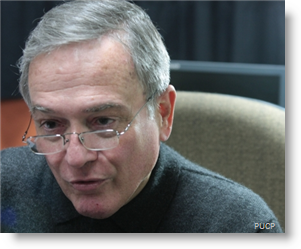 Henry Pease, a soft-spoken but tenacious politician and academic, died in Lima on August 9 of complications related to cancer.  He was 69.
A key leader in center-left politics, Pease served as president of Congress during the Toledo administration (2003-2004).  Earlier, he was deputy mayor of Lima in the 1970s, and in 1990 led an unsuccessful presidential bid as the United Left candidate when the initial candidate bowed out.
For more than 40 years, Pease also taught uninterruptedly at Peru's Catholic University, first as a lecturer from 1971, and from 1987 as professor of the Social Sciences Department.
Most recently, he was director of the university's School of Government and Public Policies, at which he launched a magazine on political science and government barely three weeks before he died.
A prolific author, lecturer and op-ed columnist, he wrote in El Comercio for many years, until the publishing group bought the Epensa editorial group and so controlled about 78% of the country's news media.  In a letter to publisher Francisco Miro-Quesada, Pease said he could no longer write in the newspaper because "years of political study and practice have convinced me that neither the State nor private entities should hold this kind of concentration."
Many of his articles as well as his open university talks, featured on YouTube, covered the issues of governance — "To govern means to listen, come together and reach a consensus" — and democracy in a country with an authoritarian culture, where "the manner in which we Peruvians treat each other shows that there are still traces of an old culture that we need to overcome."
The day before he died, in an interview for the Catholic University's Punto Edu site, Pease analyzed the current political situation in Congress and the future of political parties, particularly President Humala's governing party, from which 10 lawmakers have defected because Humala imposed Ana Maria Solorzano as the candidate to preside Congress this year, over protests within the party.
"When a political boss system takes precedence over institutions, parties become expendable," Pease said.