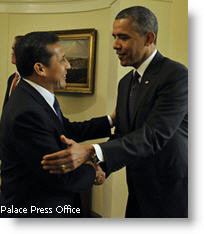 President Ollanta Humala told President Barack Obama in Washington on Tuesday that Peru is "a partner it can work with," highlighting the Peruvian leader's business and economic policies since taking office in 2011.
Humala campaigned up to the 2011 presidential election on a platform that called for greater state control in the economy, similar to regional countries such as Venezuela, Ecuador and Bolivia.
However, since taking office he has maintained Peru's free-market economic policies and aimed to attract private-sector investment in order maintain the growth that has lifted thousands of Peruvians out of poverty during the past decade.
Humala's trip to the U.S., about a month before his second anniversary in office, reflects the changes in his economic thinking and his greater distance from his Venezuelan, Ecuadorian, Bolivian and Argentine counterparts.  
President Obama received President Humala in the Oval Office, and the Peruvian ambassador to Washington, Harold Forsyth, as well as the minister of Defense, Pedro Cateriano, minister of Justice Eda Rivas, and the minister of Trade and Tourism, Jose Luis Silva.  
Also present at the meeting was the U.S. Ambassador to Lima, Rose M. Likins.
"Peru is today a partner that the United States can work with," Humala said in comments reported by daily El Comercio. "[We are] a partner that has maintained very important economic growth, an economy that generates confidence, with judicial order that protects all investors."
Humala said following the meeting with Obama that they also discussed strengthening democracy, respect for human rights and maintaining an open economy.
Following the meeting at the White House, President Humala and his delegation were guests at a luncheon given by Vice-President Joe Biden, and later met with the leaders of the US Chamber of Commerce.