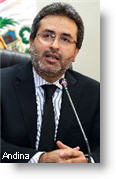 Premier Juan Jimenez reiterated Tuesday that Peru's government adheres to democratic values and is not using its police intelligence arm to collect information on opposition politicians and journalists.
Jimenez and other top government officials had already denied that the government was using the national police's intelligence division to spy on opponents, following an accusation made by prominent journalist Fernando Rospigliosi and others.
However, on Sunday, television program Cuarto Poder broadcast a report showing that intelligence officers were stationed outside the building where Rospigliosi, a bitter critic of Humala, and two other former cabinet members —Gino Costa and Carlos Basombrío— work.
When confronted, police officials said the intelligence officers were tracking Colombian drug traffickers.
The allegations bring back memories of the 1990s, when President Alberto Fujimori's administration operated a vast intelligence network, headed by Vladimiro Montesinos, that gathered information on political opponents and justice officials, to bribe, threaten or blackmail them.
In recent years, hacking of telephone lines by private operators has been common during political campaigns.
In a televised interview on Tuesday, Jimenez said the government would carry out an "exhaustive investigation" of the incident.
"No one wants to return to the decade of the 1990s," he said, according to state news agency Andina. "We would be the first to denounce this if it really existed, which we are currently verifying."
Jimenez said that if intelligence officials were indeed involved in spying, he would "immediately resign."
"The ministers aren't supportive of that, President Ollanta Humala isn't supportive of that, we are supportive of democracy. There is absolutely no spying," he said.