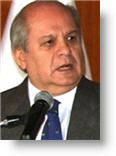 Defense Minister Pedro Cateriano defended Peruvian soldiers who fired into a minibus full of passengers, mistaking them for Shining Path rebels.
Nine people were injured earlier this week when soldiers opened fire on the minibus outside the town of Kepashiato, in Peru's southern Cusco region. The army originally said that the vehicle, which was en route to Quillabamba, was "suspiciously" stationed on the roadside and that they saw a man with an assault rifle get into the bus.
Security forces believed that the minibus was carrying narco-terrorists, who are heavily involved in cocaine trafficking, but authorities later confirmed that the driver and passengers were innocent. The attorney general's office has promised to investigate the incident.
On Friday, Cateriano was called to Congress to answer questions about what happened on the jungle mountain road.
Cateriano blamed the incident on the bus company, which he said didn't advise authorities that it would be traveling on the road, daily La Republica reported. He said that vehicles need to receive permission from authorities to travel at night in that area as a security measure, something that "didn't happen."
"The company knowing the validity of the state of emergency and the restrictions to travel in the zone made use of the vehicle that unfortunately suffered the attack.  The company exposed innocent citizens who did the trip."
Cateriano rejected claims that the Armed Forces intentionally attacked innocent people, saying he would be the first to denounce an incident of that sort.
"The Armed Forces have nothing to hide, the Armed Forces are at the service of the people, they aren't there to attack the people," he said. "Who is against the people, who does attack defenseless citizens, who uses children and women as human shields to attack and realize their demented actions are the Shining Path."