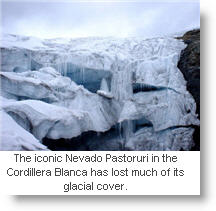 Peru's national water authority, ANA, will team up with French development agency IRD to conduct scientific studies on the evolution of glaciers in Peru and how they have retreated over the last decade as a result of global warming.
The study is part of a new cooperation agreement between ANA and the IRD to identify the new challenges for glaciers and how to mitigate the problem, state news agency Andina reported.
ANA head Carlos Pagador said the work will look to avoid a reduction in water reserves and negative impacts on watersheds. In addition, researchers will study threats from avalanches.
"The changes that are happening in the world are reflected in our snow-covered mountains and glaciers in a way that maintaining close links with a prestigious institution such as France's IRD  is very important for ANA and Peru," Pagador said.
The city of Lima, Peru's capital, is the world's second largest desert city after Cairo, Egypt, with 9 million people.  Although not all its water comes from glaciers, its sources are limited.  Other coastal valleys, and Andean valleys such as the booming farm areas of the Callejón de Huaylas in the Cordillera Blanca mountain range, depend heavily on glaciers for water as do hydroelectric plants, and the accelerated melting due to climate change will present serious consequences. 
At least 22 percent of the glacier area in the Andes has been lost since 1970, according to Peru's National Resource Institute, or Inrena.  The Cordillera Blanca lost some 15 percent of its glacial cover between 1970 (723 square kilometers) and 1977, and a further 15.5 percent in the ensuing 27 years.