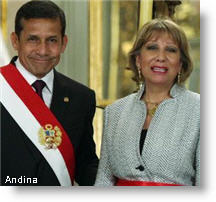 President Ollanta Humala swore in his new Labor Minister, Teresa Nancy Laos, on Sunday evening, following the resignation hours earlier of Jose Villena, who was ousted under growing pressure to step down due to an incident at Arequipa's airport where he allegedly shoved an airline employee.
Laos is the seventh woman to join Humala's 18-member cabinet.  The other cabinet posts held by women are the ministries of Education, Health, Production, Women and Vulnerable Populations, Justice and Human Rights, and Social Development and Inclusion.
Laos took a law degree at Peru's Catholic University, and a postgraduate degree at the University of Piura, with specialized studies on negotiation at Harvard and management law services at Yale, according to daily La Republica. 
Specializing in labor relations, restructuring of companies and negotiations in remodeling labor structures, Laos has worked as a magistrate in the Judiciary and served on different advisory boards on labor law in the Lima Bar Association and as president of the Council of Notaries.  Peru's largest private business association, Confiep, said that it backs Laos' appointment.
More than a week earlier, Villena, who was at Laos' swearing-in ceremony at the government palace, had been heavily criticized for losing his temper with airline personnel in Arequipa. After arriving late at the airport for a flight back to Lima, Villena lost his patience when airline personnel refused to let him through after the boarding had been closed. The incident was caught on camera.
In the video, which was posted by local media, the minister was seen belittling employees of LAN airlines, threatening to have them fired and even pushing a 24-year-old woman. The employee is reportedly pressing charges against Villena, who has apologized for the incident after initially saying it was a "misunderstanding."
Villena had hoped his apology would save his job but pressure for his resignation had mounted over the week from a number of sources, including former Public Ombudsman Beatriz Merino, and he was due to appear in Congress for questioning this week as even the ruling party began to criticize his actions.