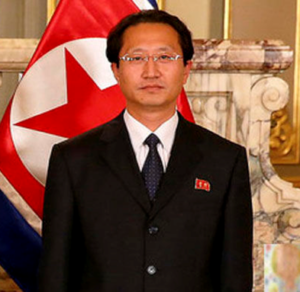 Peru has declared North Korea's ambassador to Peru, Kim Hak-Chol, persona non grata and has  given the diplomat five days to leave the country.
The Foreign Relations Ministry announced the decision today, saying Peru had adopted the measure in light of  "the People's Democratic Republic of Korea has continuous and flagrant violation of the United Nations Security Council resolutions and ignored the constant calls from the International Community to comply with its international obligations, to respect International Law and irreversibly and verifiably terminate its nuclear program."
The Ministry added that the North Korean nuclear policy was "a serious and unacceptable threat to international peace and security, as well as to the stability of northeast Asia and the world."
This afternoon in New York, the 15-member U.N. Security Council voted to apply tighter sanctions on North Korea, imposing a cap on oil exports to the Asian nation and banning imports of its textiles.
The U.N. resolution also prohibits UN Member States from providing work authorizations for DPRK nationals unless "it is required for the delivery of humanitarian assistance, denuclearization or any other purpose," consistent with other resolutions on the topic.
At the end of March this year, Peru's Foreign Relations Ministry advised the North Korean Embassy that it was to reduce its diplomatic staff by half, from six to three members.
According to the Foreign Relations statement, "The Government of Peru once again reiterates its commitment to the peaceful solution of controversies and strict compliance with the resolutions issued by the United Nations Security Council, and reaffirms its position to carry out every diplomatic effort to denuclearize the Korean peninsula."
Ambassador Kim has been serving as the DPRK ambassador to Peru since 2013, when he presented his credentials to President Ollanta Humala. North Korea opened its embassy in Lima in 1988, and first opened its trade office in the 1970s.
Peru exports cuttlefish and squid to North Korea, and imports construction and raw materials, but trade figures are insignificant.
During a visit to Chile in August this year, U.S. Vice-president Mike Pence asked Peru, Chile, Brazil and Mexico to sever economic and diplomatic ties with North Korea, to pressure for a peaceful solution to the nuclear issue.
Last week, President Enrique Peña Nieto expelled the North Korean ambassador from Mexico, while this weekend France's President Emmanuel Macron and President Moon Jae-In of South Korea asked the U.N. Security Council for unity in  applying sanctions to North Korea after the recent nuclear testing.