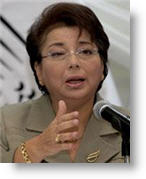 Peru's national ombudsman, Beatriz Merino, has called on the presidential candidates to implement policies aimed at improving the inclusion of the Afro-Peruvian population.
"On the eve of a change in government, I would like to call on the person who will be elected as the country's next president to establish a panel… made up of specialists, to evaluate the situation of exclusion of Afro-Peruvians," state news agency Andina reported Merino as saying.
Merino made the comments during the presentation of a study on Peruvians of African descent that shows large inequities between the community and the country's general population.
According to the study, Afro-Peruvians participate the least in the country's education system with only 6.2 percent going to university and 2 percent finishing their post-secondary studies. As well, about 50 percent of Afro-Peruvian students don't finish high school.
On health issues, 70 percent of the Afro-descendent population that falls ill or has an accident does not go to health centers.
About 5-10 percent of Peru's population is of African origin and has faced centuries of discrimination and exclusion.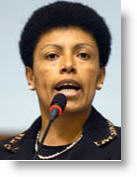 In December 2009, President Alan Garcia formally apologized for the treatment of the community. "Today is the day that we apologize to Afro-Peruvian citizens. I tell you that with your help we can eradicate exclusion and racism in Peru," he said at the time.
In 2008, Afro-Peruvian congresswoman Martha Moyano led a successful campaign to establish an Afro-Peruvian Culture Day, celebrated June 4. In an exclusive interview with Peruvian Times she talks on the culture and identity of her community.