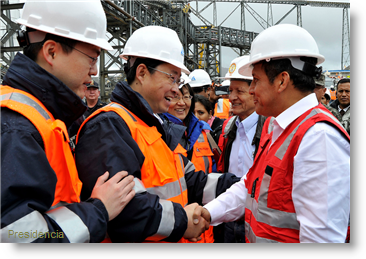 Operations began Tuesday at one of the world's largest undeveloped copper mines, in the highlands of Peru's central Junin region.
China's state-owned Chinalco officially started up operations at its $3.5 billion open-pit Toromocho mine, at 4,500 masl in the Morococha mining district, during a ceremony with guests President Ollanta Humala, Mines and Energy Minister Jorge Merino and other high-ranking government officials.
Chinalco is to eventually produce 250,000 tons of copper per year, and the life of the mine is estimated to be 36 years. The company plans to spend another $1.3 billion on an expansion project over the next few years.
The initial investment has included three gearless mill drive systems, GMDs, which are the largest operating anywhere in the world, supplied by ABB.   The GMDs power the huge cylindrical drums that break and grind the ore into smaller pieces for further processing.  Investment also included moving the entire mining town of Morococha (pop. 5000) to a new settlement, Nuevo Morococha, since part of the Toromocho deposits are underneath the old town.
Peru is the third biggest producer of copper in the world, after Chile and China. New output from Toromocho will help to boost Peru's copper production next year.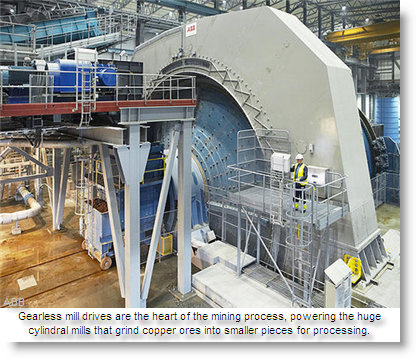 "We are before a very important mining project that will allow for growth and the consolidation of Peru as a mining potential," Humala said, according to state news agency Andina.
Toromocho is the second Chinese-owned mine to start production in Peru. The other operation is the Marcona iron ore mine, owned by China's Shougang Hierro Peru. Shougang acquired the Marcona mine in the 1990s as part of the government's policies to privatize state assets. Marcona was initially developed by the U.S.-based Marcona Mining Company and later became Hierro Peru in the 1970s nationalization of strategic industries by the military government.
Chinese miners are planning to invest billions of dollars in other copper and iron ore mines in Peru. China has become a major investor in Peru's mining sector as it seeks natural resources to fuel its economic growth.
A Chinese consortium is also in the running to acquire the $6 billion Las Bambas copper mine in Peru's southern region of Apurimac. That project is currently being developed by Glencore Xstrata.