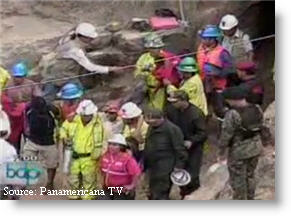 The nine miners who had been trapped 250 meters underground for six days began to emerge from the Cabeza de Negro mine shaft just before 7am Wednesday, helped by rescue teams and welcomed by President Humala at the entry to the mine shaft.
The rescue was expected to be completed late Tuesday , but a large rock in the tunnel blocked access to the miners.  The rock, some two meters deep, had to be broken down slowly to avoid any further collapses.  The tunnel had caved in at least twice during the rescue operations.
President Humala congratulated the rescue teams and emphasized the joint effort of private enterprise and the government in the successful operation.
"We Peruvians can remain locked up deep inside a mine for a week and still have the will to live," said the President, as he welcomed the miners and met their families.
During the six days underground, the miners were fed through a pipe, with food prepared in a makeshift kitchen set up in a straw hut near the opening to the mine. 
The workers, aged between their early 20s to late 50s, suffered no injuries, according to government officials. One of the miners had served in the army and had been among the troops in the Locumba rebellion in October 2000, led by then Cmdr. Ollanta Humala and his brother, retired army major Antauro Humala, currently serving a prison sentence at the maximum security Naval Base in Lima.
Another miner, Edwin Bellido, had been a taxi driver until last week when he had begun working at the mine to improve his income.  He had been on the job for two days when the mine collapsed.
The Cabeza de Negro mine, in the desert coast 282 km south of Lima, is an artisanal operation,  but it is also an informal mining operation. The minister of Energy and Mines said that a full investigation would be made into the reasons for the collapse of the mine shaft.  The government earlier this year enacted laws that require illegal or informal mining operations to become  incorporated into the legal system within the next 12 months.
Peru is an important global producer of copper, gold, silver and zinc. In addition to formal mining, the country also has a large informal mining sector, working in locations throughout the country. The most notorious informal mining area is the gold fields in the southeast jungle region of Madre de Dios.