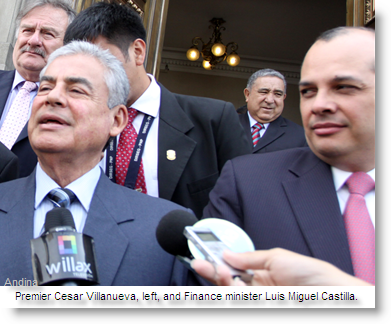 Premier Cesar Villanueva said that he doesn't plan to replace the government's finance minister in an expected cabinet shuffle.
Villanueva said last week that he plans to make changes to the cabinet soon. President Ollanta Humala appointed Villanueva as his cabinet chief in late October, replacing Juan Jimenez.
Local media has speculated for several months that Finance Minister Luis Miguel Castilla could leave the cabinet. Castilla is a US trained economist that is well respected by the private sector.
"Minister Castilla is an excellent minister and we are going to continue with the macroeconomic balance," Villanueva said, according to daily Peru.21. "I don't see why he would have to go, unless he wanted to go," he added.
Over the past several weeks, the Judiciary system has created an increasing backlog of court cases, as judges are on a go-slow, refusing to accept Castilla's proposal of salary raises — the judges are demanding that all judges receive salaries on a par with those of Supreme Court judges.