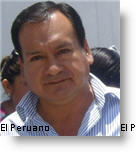 The mayor of the Peruvian province of Casma was murdered over the weekend, reportedly by two hit men riding a motorbike.
Jose Alejandro Montalvan, 50, was shot five times, including once to the head, in front of his house in Casma, on the coast  in the Ancash region north of Lima, daily El Comercio reported.
Police are investigating the incident, although early reports suggest that the attack was carried out by two young men. "According to some versions, they were young men between 20 and 25 years old, but [witnesses] are afraid of identifying them," said Pablo Gil, a police officer in Casma said.
Montalvan was a controversial figure and had numerous run-ins with the law. Police had investigated and later exonerated Montalvan in connection with the 2011 murder of local journalist Pedro Flores Silva.
Montalvan was also investigated over allegations of corruption, while in November he was ordered by the courts to pay a former official 30,000 soles (about $11,500) for defamation.