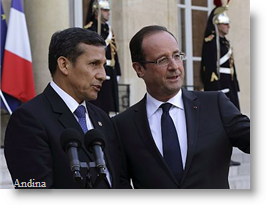 Peruvian Premier Juan Jimenez said Thursday that the government will happily explain to Congress why President Ollanta Humala held an unscheduled meeting with his French counterpart this week.
Political opponents in Congress have asked for an explanation of the meeting in Paris, which they have called a "constitutional infraction."
President Humala's own Gana Peru party members in Congress denied that the visit was a constitutional infraction. "The present trip complied with the requirements of the law, so the assertions from certain opponents lack fundamentals," the party said in an emailed statement.
Humala met with Francois Hollande of France during a layover in Paris. Humala was returning to Peru from Thailand and Indonesia, where he attended the summit of the Asia-Pacific Economic Cooperation, APEC. Humala had received permission from Congress to travel to Asia, but he did not receive specific authorization for the visit with the French President.
Jimenez has said that some lawmakers are making too big a deal out of the meeting, which was organized at the last minute and at the invitation from France.
"This has happened with other Presidents too," he said, according to state news agency Andina. "It was an informal meeting. It wasn't a state visit."
"We don't see anything irregular or any infraction and we are happy to go to parliament to explain it," Jimenez added.
The foreign relations committee in Congress has requested that Foreign Relations Minister Eda Rivas attend their session on Monday to provide details of the meeting.