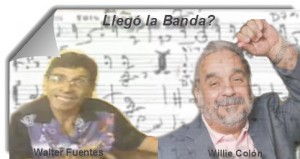 Willie Colón, the legendary pioneer of Salsa music, was detained in Lima around 3 a.m. Saturday by police, two days after missing a court-ordered appearance to provide his sworn statement to answer allegations that he plagiarized his 1973 hit "Llegó la Banda."
Colón had just finished a concert when police caught up with him, local media reports said. Riding in his own car, the Grammy Award winner was escorted to the Attorney General's  Legal Medicine Institute to undergo unspecified medical exams, and was then taken to give his statement to investigating prosecutor Lucila Cabrera, Radioprogramas reported.
Peruvian composer Walter Fuentes contends that the legendary trombone-playing band leader stole the song from him.
Colón's lawyer, Óscar Arenas, told reporters "there was no plagiarism" and that Colón's testimony was a perfunctory step in an initial investigation to determine if León's allegations are warranted.
Fuentes registered the song with the Peruvian Association of Authors and Composers (APDAYC) on Sept. 13, 1973,  four months before Colón released his version in the United States, daily El Comercio reported.
Colón was a no-show for a press conference on Thursday, reportedly because he was overtired from his journey to Peru, but Fuentes' daughter did show up to talk to reporters.
"We want Colón to acknowledge our moral rights and economic rights," she said. "The first is to vindicate my father as the author of the song.  And the economic part is how (Colón) profited. It's been a 37-year fight. Give us what we deserve. We have tried to locate him and all we have gotten are replies from other people. I am going to carry on this fight if my father dies."
In response, Colón's attorney, Arenas, was quoted in Lima tabloid Trome saying: "We are willing to pay compensation, but that does not mean there was plagiarism with the 'Llegó la Banda.'"