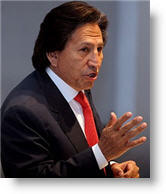 Former President Alejandro Toledo has confirmed that he will run in Peru's presidential elections in April 2011, during an official announcement on Wednesday at Lima's Bolivar Hotel.
"There are times to listen, to think, to decide and to act," daily El Comercio reported Toledo as saying. "For me, today is the time to decide and to fight. To fight for a just cause, for a dignified life for all Peruvians, above all for those who have the least and who are excluded, and to fight for a more just and prosperous Peru. For these reasons I have decided to run again for President."
Toledo said he is mainly concerned with strengthening Peru's democratic institutions and addressing corruption. Another focus of the former president is the country's current infrastructure, energy and clean water deficiencies.
"Despite the high levels of growth, we have not been able to redraw the social face of Peru," he said.
Toledo's campaign will be led by one of his closest colleagues in the previous administration and a key figure in the Peru Posible party, former housing minister and Congressman Carlos Bruce.
Toledo was Peru's president from 2001-2006. Born in the village of Cabana just north of Peru's Callejon de Huaylas mountain region in Ancash department, he later earned a PhD in Economics of Human Resources from Stanford, and was a visiting scholar and research associate at Harvard. He has held positions at the World Bank, Inter-American Development Bank and the United Nations.
Other candidates include Lima's former mayor, Luis Castañeda, Congresswoman Keiko Fujimori – who is the daughter of jailed ex-President Alberto Fujimori – Ollanta Humala of the Nationalist Party, and Mercedes Araoz, who was President Alan Garcia's trade minister and most recently economy and finance minister.