Countries from the G-8, Africa and Latin America are looking at setting up a UN-monitored fund to combat cocaine trafficking that would be financed with money confiscated from drug traffickers, state news agency Andina reported.
The proposal, made by French president Nicolas Sarkozy this week in Paris, is to be put forth at the G8 Summit at the end of this month in Deauville, in northern France.  Sarkozy is currently president of the G8. 
This week's meeting in Paris included the government ministers from the world's leading nations and ministers from 14 countries in Africa and Latin America –including Peru's minister of the Interior, Miguel Hidalgo— to discuss solutions to the illegal drug trade.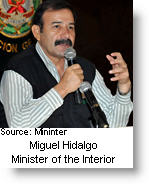 Hidalgo said the initiative would provide an important boost to government efforts to combat the drug trade.
One of the main reasons for the fund is to help West African countries, which have become preferred transit destinations for cocaine from Latin America to Europe.
According to the UN's Office on Drugs and Crime, approximately $84 billion is generated each year by cocaine trade. In the United States, the activity generates about $37 million, while in Europe it is $33 million.
"This meeting has been very important because it has resulted in stronger ties for cooperation on both sides of the Atlantic to face this titanic fight together, to combat international trafficking of drugs," said Hidalgo.
In addition to Peru, Latin American participants in the meeting included representatives from Colombia, Mexico, Brazil, Bolivia and the Dominican Republic.
Peru has seen a steady increase in the number of hectares used to grow coca leaf, the raw material used to make cocaine. It is now the world's top producer of coca, followed by Colombia and Bolivia, according to a previous UN report.