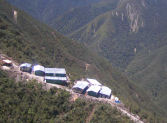 The Peruvian government has suspended activities at the Río Blanco mining project ahead of negotiations on Oct. 29 to address environmental concerns. The mining project has been at the center of controversy between environmental NGOs and the mining industry since 2003, when it was approved by the Peruvian state.
Proponents argue the mine will bring $65 million annually in taxes to the region, badly needed social services, and over 12,000 jobs after its planned start-up in 2011. But critics say it will contaminate the environment and jeopardize agriculture, which fuels the local economy. Prime Minister Jorge del Castillo, who will attend the meeting in the northern Department of Piura, told reporters, "We are going to look for solutions in order to preserve the environment … then we will see if the mine is possible or not."
The mine was purchased earlier this year by Zijin Consortium of China from London based Monterrico Metals. Monterrico Metals estimates the Río Blanco project will be one of the largest copper mines in the world during its first five years of operation.