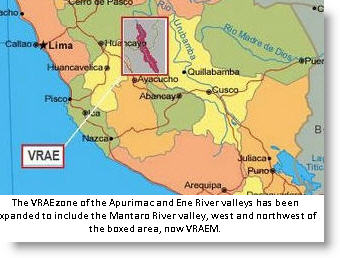 Peru's anti-drug agency Devida says it will be working with the private sector to strengthen alternative development opportunities in the coca-growing Apurimac, Ene and Mantaro river valleys.
The valleys, known as the VRAEM, form Peru's biggest coca-growing region, with large swaths of the area outside of the government's control and home to drug traffickers and remnants of the leftist Shining Path rebels.
The head of Devida, Carmen Masias, signed an agreement Wednesday with Peru's private-sector export association, ADEX, that is aimed at advancing joint projects to improve the conditions of small-scale businesses in the VRAEM.
"For the first time, the companies are saying directly that they are going to fight against drug trafficking, together with the government and civil society," Masias said, reported by state news agency Andina.
As part of the agreement, Devida has agreed to provide Adex with the know-how for alternative development projects, which are to be incorporated into the association's work plan.
It will also provide information on new actions aimed at increasing the productivity of agricultural products for export.
Peru is one of the world's biggest producers of cocaine, which is produced from coca leaves.