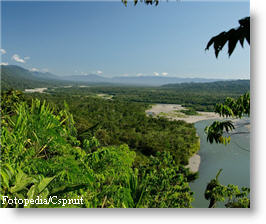 Argentina's Pluspetrol has been studying ways to exploit gas reserves in Peru's Manu National Park, one of the most biologically diverse places on earth, according to The Guardian newspaper.
The paper said it obtained leaked documents from a local Peruvian consultancy hired by the Argentine company to research exploration in the national park and along its buffer zone.
According to The Guardian, consultancy Quartz Services confirmed that it had produced the document, called "Research Plan for Geological Exploration and Surface Geochemistry in the Manu National Park and its Buffer Zone," for Pluspetrol. The document was dated March 2012.
"It's shocking. This is the first time we've seen evidence for plans to expand hydrocarbon activities into Manu," the newspaper quoted anthropologist Daniel Rodriguez as saying.
Located in Peru's south-eastern Madre de Dios region, Manu is one of the world's largest protected areas and a UNESCO World Heritage and Biosphere Reserve site since 1987. It is home to over 1 million species of insects, 1,000 species of birds, 300 species of trees, 120 types of fish, and countless other life forms.
The park is also home to indigenous communities that live in voluntary isolation and face high health risks from illnesses that are common among outsiders, anthropologists say.
"It's terrifying to think that Pluspetrol has been planning this," said Rebecca Spooner of Survival International, the worldwide indigenous rights group. "How can any company justify working in such a sensitive region?"
Pluspetrol had reportedly applied for permits to explore in the national park, but authorities have denied them access.
Pluspetrol is part of a consortium that operates the Camisea natural gas fields in Madre de Dios.