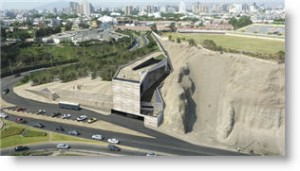 The bidding process for the construction of Peru's Memory Museum is scheduled to start next week, the president of the commission for developing the museum, artist Fernando de Szyszlo, said.
"The only thing left to do is select a national or foreign company to make the museum a reality," state news agency Andina reported De Szyszlo as saying.
Construction of the museum, on the cliffside overlooking the sea in Miraflores, is expected to cost 100 million soles ($36 million) –which includes the donation of 2 million euros from the German government — and in July the commission is expecting the main hall to be inaugurated with photographs and artistic work to acknowledge the victims of Peru's political violence in the 1980s and 1990s.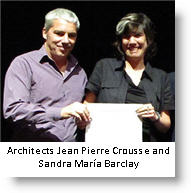 The architectural design for the museum –chosen in April last year– was the result of a bid that attracted proposals by 455 Peruvian and Peru-resident architects. Sandra Barclay and Jean Pierre Crousse were the winners, selected from five finalists by a panel of judges led by Peruvian architects José García Bryce and Wiley Ludeña and by three foreigners – Francesco Dal Co of the University of Venice, British architect Kenneth Framptom of the University of Columbia, New York, and Spanish architect Rafael Moneo, winner of the Pritzker Prize and former dean of the School of Architecture at Harvard University as well as the architect of some of the most important contemporary museum projects in the world.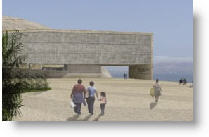 Barclay and Crousse work on public spaces and private housing in Peru and France, where their work includes housing projects in Paris and the remodeling of the Malraux Museum in Le Havre.
"Everything is ready to launch the tender and start construction of the Memory Museum, as well the work on preparing the levelling the ground is well-advanced, which will facilitate and speed up the works," De Szyszlo said.
In addition to photographs and art work, the museum will also include a public archive and a space for material from the Armed Forces.
The commission also announced that the museum launched its website, which will provide information on activities, events and an information section with attachments to documents, photos, videos and legislation.
The museum is to honor the 70,000 people that died during the 20 years of political violence in Peru between the Maoist Shining Path insurgents and government security forces.
De Szyszlo took on the presidency of the commission in October after the resignation of acclaimed novelist Mario Vargas Llosa.