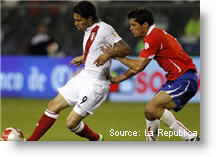 Chile defeated Peru on Tuesday by 4-2 during a qualification match held in Santiago for the 2014 World Cup in Brazil.
Chile opened up the scoring with a goal in the first minute thanks to a header from Waldo Ponce. A second goal for Chile came in the 16th minute by Eduardo Vargas and with a few minutes before the end of the first half Gary Medel scored Chile's third.
However, Peru fought back and in the 49th minute, Claudio Pizarro scored the Andean nation's first goal in the match. Shortly after, Jefferson Farfan put in a header, which gave a boost of hope to the Peruvian team.
Chile hit back, though, and in the 62nd minute got its fourth goal thanks to Humberto Suazo.
"We had a lot of posts and many opportunities to score," said Paolo Guerrero, who scored two goals to lead Peru to a victory against Paraguay last week. "We deserved to win the game."
"We lost for sure, but we played well, above all in the second half of the game," said forward Claudio Pizarro. He added that "there are still errors to correct." Peru and Chile have both one-and-one.
Peru's next match will be against Ecuador on November 15 in Lima.