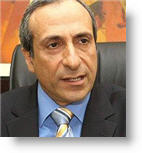 As parts of Latin America will be among the world's most vulnerable to climate change, governments in the region have not done enough to mitigate damage, according to Peru's comptroller general, Fuad Khoury.
"While countries don't adopt the fundamental measures needed to mitigate climate change, they will continue to have problems," state news agency Andina reported Khoury as saying.
Khoury was speaking last week during a meeting in Lima on the implementation of UN commitments to mitigate climate change.
"The actions by the government are still insufficient in order to determine the measures to confront climate change," he said.
In terms of governance, Khoury said public policy has failed to properly include an environmental perspective. He added that deforestation and transportation are the main causes of emissions and should be seen as a priority.
Peru is seen as one of the most vulnerable countries in the world to climate change, which has resulted in the accelerated meltdown of Andean glaciers that are the main source of water for the country's highlands and the arid coastal region. At least 22 percent of the glacier area in the Andes has been lost since 1970.