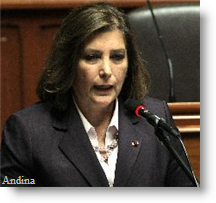 Foreign Relations Minister Eda Rivas attended Congress on Friday to defend a meeting between the Presidents of Peru and France this week. Despite being called by Congress, Rivas addressed an almost empty chamber, with only 35 of 130 lawmakers present.
Opposition politicians have been calling for an explanation as to why President Ollanta Humala, without first requesting permission from Congress, met with French President Francois Hollande during a layover in Paris.
Humala was returning to Peru from meetings of the Asia-Pacific Economic Cooperation in Indonesia. The President had received authorization from lawmakers to travel to Asia, but he did not receive authorization for a visit in France. The authorization is required under Peruvian law.
Government officials, however, argue that the issue shouldn't be blown out of proportion and that the meeting was informal and only scheduled at the last moment at the request of the French government, when it was known that President Humala would be in Paris for several hours.
Rivas said there was no wrongdoing. "The actions of the Executive in this case are in line with the Constitution and the current legal norms," she said, according to RPP Noticias.
"The itinerary contemplated from the beginning that the President would travel on a commercial flight from Lima to Paris on October 2 and return from that city to Lima on a commercial flight," Rivas told Congress. She added that Humala's meeting with Hollande was not an "official state visit." "They took advantage of the layover in Paris to have a meeting not subject to a prior schedule," the minister said.
Rivas added that the informal conversation between both heads of state did, in fact, result in France offering to contribute to the Climate Change Convention to be held in Lima next year, and the possible waiving of Schengen visa requirements for Peruvians travelling to France.
The opposition, however, led by the Fujimori party, Fuerza Popular, and backed by Apra's four members of Congress, has said they are not satisfied with the explanations and hope togather sufficient votes over the weekend to call for a motion to censure Minister Rivas on Monday.