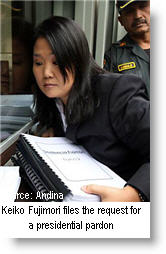 The children of jailed ex-President Alberto Fujimori said they hope a decision on  their request for a presidential pardon will be announced within the next two months.
Keiko Fujimori, the oldest daughter of Alberto Fujimori and a former presidential candidate and congresswoman, submitted on Wednesday the family's official request for a humanitarian pardon for her father. Keiko was accompanied by her three siblings, including congressman Kenji Fujimori.
The file of documents was delivered to the Justice Ministry, where it will be reviewed by a committee before President Ollanta Humala rules on whether or not to grant the pardon. President Humala does not have a timeline to announce his decision, Prime Minister Juan Jimenez said.
"We are hoping for a quick response," Keiko Fujimori said in comments reported by daily Gestion. "One or two months would be good to know what the president has decided."
"We hope it will be a positive result," she added. "If it is, the government would have my family's gratitude."
Ex-President Fujimori is serving a 25 year prison sentence for human rights abuses, convicted on charges that he knew of and authorized the kidnapping of two people, and the killing of 25 people, by the paramilitary death squad known as the Colina group, in the early 1990s. Although he pleased innocent, the prosecution's arguments and the procedure of the trial were commended internationally.  In a subsequent trial, he pleaded guilty to charges of corruption and sentenced. 
Fujimori is credited with pushing through reforms that turned the economy around and propelled Peru into the 21st century. He is also credited with defeating the Shining Path rebels, for which his supporters insist a blind eye should be turned on the widespread corruption, human rights abuses and dirty political tactics used during his administration to achieve his goals.
The pardon would be a delicate issue for President Humala as public opinion is highly polarized on the subject. Fujimori still has large support in some sectors of the population and proof of that is the close election last year between his daughter, Keiko, and President Humala.
But there are also serious doubts as to whether Fujimori would even qualify for a presidential pardon. By law, he would not qualify because his crimes are considered crimes against humanity. Human rights lawyers also claim that if a pardon is granted, it could be overruled by Latin America's regional human rights court.
The Fujimori family is arguing from a humanitarian standpoint, mounting pressure over the past year that President Fujimori is seriously ill and suffering from depression.  The medical board at the national cancer hospital, however, has categorically denied that the tumors on his tongue are dangerous or fatal. 
The U.S.-based Human Rights Watch called on Humala not to give Fujimori any special treatment and said that arbitrarily releasing him would be incompatible with Peru's international agreements. "It would be a grave mistake for Humala to give Fujimori special treatment, especially given the magnitude of his crimes," said Jose Miguel Vivanco, the rights group's America's director.