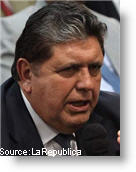 Two-time former President Alan Garcia has thrown his support behind Peru's current President, Ollanta Humala, as the government is battling a Shining Path remnant group in a rugged, coca-growing region that has led to the recent deaths of a number of police and army officers.
Garcia, who was president in the 1980s and again from 2006 to 2011, called on Peruvians to unite around Humala's anti-terrorist policies, daily El Comercio reported. He said the recent clashes between security personnel and the rebels, as well as the subsequent resignation of Peru's Defense and Interior ministers, won't affect the development of the country.
"It is a national issue and not only a government one," Garcia said. "It is an issue of all the authorities, of all the institutions."
"Terrorism doesn't threaten the progress of the country," he added. "It doesn't threaten the nation's security and our true battle is to maintain the leadership that Peru has."
Garcia said there are always opportunities to make improvements to strategies, and that he sees an obligation to support the government's efforts.
"There are issues where we can have differences. But in foreign policy and anti-terrorism policy you have to support the government, because what the terrorists, which are few, want is to divide us."
While the Shining Path did indeed terrorize Peru during the 1980s and 1990s, the group today is a shadow of its former self. It is heavily involved in Peru's growing drug trade, including providing security to traffickers and being involved in cocaine production.
The group has killed nine military and police officers who were part of an operation to rescue 36 natural gas workers kidnapped by the Shining Path in April.