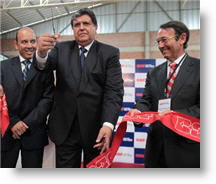 Peru's economy is expected to grow 9 percent in the first three months of this year, President Alan Garcia said Friday during the inauguration of a privately-owned storage and logistics center in Lima's Villa El Salvador district.
"Last year demand grew 12 percent, this year by 8 percent and in the first three months we are hoping for 9 percent growth in the GDP despite the proximity of the election, despite the problems in the Arab world and its repercussion in the world economy," state news agency Andina reported Garcia as saying.
The economic growth will also result in a buoyant job market, Garcia said.
"Employment will consequently increase, but also the decentralization and the number of works in favor of the population," he said. "All of this will require logistical organization at another level."
Garcia said the new logistics center, which is owned by BSF Almacenes del Peru, supports the strengthening and stability of the country's economy.
The center was built on a 13-hectare property and required an investment of $26 million, while an additional nine hectares have been bought further south to provide additional storage space. BSF clients include Wong, Plaza Vea, Vivanda, Tottus, Sodimac, Saga Falabella, Alicorp, Isoplast, Tramontina, Elektra, Farmaindustria, Papelera Dimar, and Ripley.