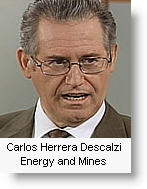 Peru's government plans to prioritize the electrification of rural communities along its borders and is to invest 500 million soles (about $182 million) this year, Mines and Energy minister Carlos Herrera said.
"It is evident that help is needed in the border areas and we have as an example Peruvian children who are going to schools in neighboring countries, sing their national anthems and learn their history. So we have to support those zones that are the poorest and provide State presence," state news agency Andina reported Herrera as saying.
The minister said the lack of electricity in rural communities is one of the clearest signs of poverty and abandonment.
Herrera said that in 2012 the government will continue with a similar budget and spend more than 500 million soles on the rural electrification projects.
Since taking office on July 28, one of Herrera's first tasks has been to address electricity shortages in northern Peru. The government had to ration energy in the first days of August, which mainly affected some industries in La Libertad, Cajamarca, and other northern regions.
The shortage did not affect supply to residential consumers.
Herrera announced this week that the government reached an agreement with Ecuador to import electricity, although at a much higher cost.