President Ollanta Humala was in Moscow late last week, where he met on Friday with Russian President Vladimir Putin. It was the first time a Peruvian president has visited Russia in 45 years of diplomatic relations, daily Peru.21 reported.
"This is a very important moment in the friendly and brotherly relations between Peru and Russia," Humala said following a meeting with Putin.
The visit to Russia, with meetings also in St. Petersburg, is part of a broader trip that  has included attending the XXII meeting of economic leaders for the Asia-Pacific Economic Cooperation Forum, Apec, held in Beijing, and a visit towards the end of this week to the Vatican.
The President is accompanied by cabinet ministers and a delegation of private banking and industry leaders who serve on Apec's advisory board.
In Moscow and St. Petersburg, Humala met with officials to discuss issues related to strengthening trade, promoting tourism, fighting drug trafficking and cooperation on the environment, according to RPP Noticias.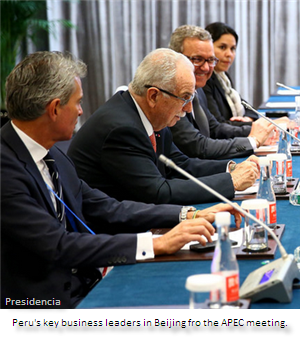 Humala said Peru is interested in signing a free trade agreement with the Eurasian Economic Union, which includes Russia, Belarus and Kazakhstan.
Humala and his team also held meetings with government and private investors, including Maxim Sergeev, the director general of Inter Rao Export, a firm that has begun to look at upgrading the hydroelectric plant at Machu Picchu and the supply of equipment for an additional hydro station.   Nuclear energy projects were also discussed.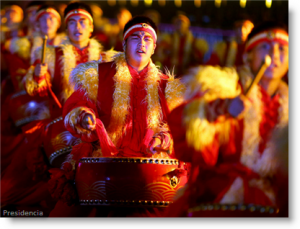 Trade with Russia has increased by 473 %  in the past five years, to $150 mn in 2013, according to Peru's Foreign Relations minister, Gonzalo Gutierrez.
The APEC Summit took place in Beijing on Nov. 10 and 11, with additional meetings on a number of different issues and associations, including the Trans Pacific alliance or partnership, TPP.
The event provided the opportunity of meetings with several key leaders to further Peru's agenda of attracting foreign investment —  APEC member countries represent 60% of Peru's foreign trade destinations.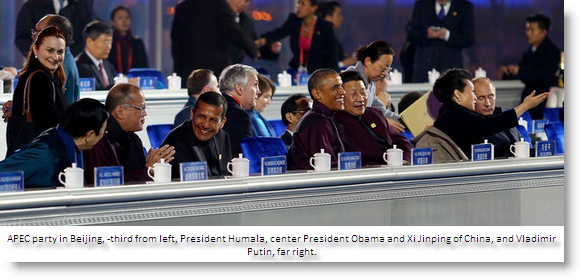 Additionally, the World Bank's Doing Business 2015 ranks Peru as one of the 35 most positive economies in the world and with lower risks for investment.
During the weekend and at the meeting itself, President Humala held talks with Singapore's prime minister Lee Hsien Loong on possible investment in postgraduate scholarships for Peruvians, and in the design and construction of an industrial park in the north coast valley of Olmos.  Meanwhile, the agenda of a meeting with Japan's prime minister Shinzo Abe included investment in infrastructure, expansion of the port of Callao, and a thermoelectric plant on the south coast from the Camisea gas pipeline.
On Wednesday, Humal is scheduled to sign a number of additional agreements with China's Xi Jinping at the Great Hall of the People in Tian'anmen Square.  Peru and China signed a free trade agreement in 2010.
On Friday, President Humala will be in Rome. He is scheduled to meet Pope Francis at the Vatican, when he will formally invite the pope to visit Peru next year.