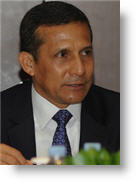 A new national poll shows that President Ollanta Humala has continued to maintain solid support in May, despite seeing his approval rating drop a tad from the prior month.
The poll by Datum, which was published in daily Gestion, said that Humala has a 55 percent approval rating in May, compared to 57 percent in April.
The poll, which was taken from May 4 to May 7, shows that the president's approval rating has not been significantly impacted by a recent uproar over his government's handling of a hostage crisis of 36 natural gas workers at the hands of Shining Path remnants from the coca-growing Apurimac and Ene river valley, or VRAE.
Eight police and military officers were killed in an operation to capture the hostage takers, who released  the workers after holding them for a few days. Shining Path remnants shot down a helicopter and attacked security personnel with long-range guns.
Humala's Defense and Interior ministers resigned on Thursday as a result of the political uproar, to avoid a censure by Congress this weekend.  The President has been in Japan and South Korea all week, leading a political and business group on a roadshow to seek foreign investment. 
"It has to be pointed out that the people don't believe that the VRAE problem is the fault of Humala, but rather narco-terrorism," said Datum director, Manuel Torrado. "And that favors him a lot."
The poll of 1,212 persons also showed that Prime Minister Oscar Valdes saw his disapproval rating jump to 43 percent from 35 percent in the prior month.
The poll has a margin of error of 2.9 percentage points.