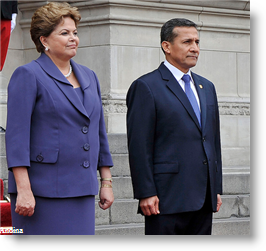 President Ollanta Humala received his Brazilian counterpart, Dilma Rousseff, at the Government Palace on Monday as the two countries seek to further solidify already strong ties.
Following an official meeting and talks, President Rousseff was later awarded a key to the Peruvian capital by Mayor Susana Villaran. In the evening, the Brazilian president participated in a forum organized by the Peruvian-Brazilian Chamber of Commerce.
"Today is an important day because we strengthen even more Peru's strategic relationship with Brazil," said Humala, according to daily La Republica. "We are signing a number of agreements, but more than that, we are drawing up a path to make progress in the relationship."
Brazil has been an important player in Peru's economy over the past decade, winning major investment bids in infrastructure projects and developing energy works.  The $2.8 billion Interoceanic Highway was completed in 2010, covering 2,589 km between three ports on Peru's coast and Rio Branco in Brazil —the highway continues through Brazil southeast to Sao Paulo.
Humala said that Peru is creating "clear rules" so that more Brazilian investments are made in Peru.
Rousseff called on further strengthening relations between Peru and Brazil, while pointing to the "notable advances" in recent years. "That doesn't mean that we are satisfied with what we have," she added.
Rousseff said that trade between Peru and Brazil should increase to $10 billion in the next five years, from the current $3 billion.
"We want to continue this alliance of cooperation and peaceful coexistence that has increased trade by six since 2003," Rousseff said at business event in front of some 400 executives.