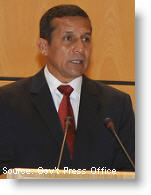 President Ollanta Humala, in Geneva as a guest speaker at the International Labour Organisation's general assembly, said Monday that Peru is not criminalizing social protests following recent crackdowns on protests against mining companies.
"There is no criminalization of social protests in Peru," Humala said, in comments reported by Radio Programas. "What we are trying to do is defend the rule of law."
Peru's government has been trying to end a number of social conflicts that have targeted mining projects located near poor, Andean communities. Protesters are claiming environmental concerns and mistrust the response of the mining companies and of the government. 
The latest protest came against Xstrata's Tintaya copper mine in the southern mountainous province of Espinar. Two people were killed when those protests escalated into clashes with police, resulting in the government suspending democratic liberties and declaring a state of emergency.
The mayor of Espinar, Oscar Mollohuanca, was arrested and is currently being held 'preventively' for his role in the protests. He is detained in Ica on the south coast, far from his province.  Although the Attorney General said the detention is lawful, human rights groups are condemning the decision.
Humala said the protests in Espinar were due to misinformation about the impact of the mining operation on the local environment. 
The Tintaya mine has been in operation for more than 25 years and several years of negotiations have led to good relations between the mining operators and the communities directly in its sphere of influence.  New expansions, however, have awoken doubts and mistrust among the broader province communities. 
The Ministry of the Environment is to undertake new environmental studies of the area.
The other major protest at the moment is in the northern department of Cajamarca, where residents have most recently held a week-long strike in protests that began to build up late last year against the new Minas Conga gold project, which is being developed by US-based Newmont Mining and Peru's Buenaventura.