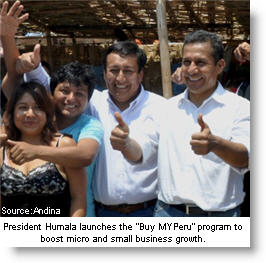 President Ollanta Humala's popularity increased a tad in December to 50 percent from 48 percent in the previous month, according to a national poll by company Datum.
Humala took office on July 28 and his approval rating peaked in September at 70%. In recent months, however, the president's popularity has declined following corruption allegations of his second vice-president and party members of congress, and the social conflict over Newmont Mining's $4.8 billion Minas Conga gold project.
The conflict over the mine, which resulted in large protests in Peru's Cajamarca region, led Humala to change more than half of his cabinet members, including the former head of cabinet and close advisor, Salomon Lerner Ghitis.
Lerner Ghitis was replaced by Humala's then Interior Minister, Oscar Valdes, a former military officer.
According to the poll, 40 percent see the new government as stable and united, compared to 25 percent in November, before the cabinet shift.  Humala's highest approval rating is in Lima and central Peru, and a solid 55% comes from the A and B sectors of society who, quite probably, did not vote for him. 
Meanwhile, Valdes has an approval rating of 26 percent, while Economy and Finance Minister Luis Miguel Castilla, one of the key players in the cabinet, has an approval rating that has slipped to 28 percent from 35 percent in November.
The poll of 1,204 people, published by daily Gestion, said that 72 percent of respondents see Humala's first five months in office as normal or good, while 26 percent say it has been bad.
The poll, taken from January 5 to January 8, had a margin of error of 2.9 percentage points.