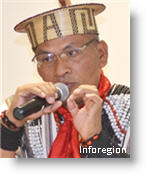 An indigenous leader from central Peru says that a boom in the drug trade is recruiting many residents from his community to grow coca, the raw material used to make cocaine.
Americo Cabecilla, a leader of the Ashaninka people, said during an interview with Inforegion that the security in central Peru's jungle region has deteriorated due to the drug trade.
"There's a resurgence in drug trafficking in the central jungle that is putting at risk the lives of indigenous communities," Cabecilla said.
Cabecilla said that many indigenous people have been arrested for growing coca. "The drug traffickers recruit women and men to cultivate coca illegally," he said. "During police operations, they are the ones who are detained, and many of them are now in prison awaiting sentences for the past five years."   He added that despite the arrests, women are still being recruited to farm the illegal crop.
The Ashaninka suffered major losses during the terrorism years, when Sendero Luminoso kidnapped women and children from the communities and set fire to villages when the Ashaninka fought back.
Peru's top coca growing region are the valleys of the Apurimac, Ene and Mantaro rivers, known strategically as VRAEM, which includes districts in the country's south-central regions of Ayacucho, Cuzco, Huancavelica and Junin.  The influence also affects the regions of Huanuco and the eastern slopes of Pasco.
The area, part of which is home to the Ashaninka, is controlled by heavily-armed remnants of the Shining Path rebels. The guerrillas profit from the drug trade, while launching deadly attacks on Peruvian security personnel.
President Ollanta Humala has promised to defeat the rebels, while increasing the state's presence in the region. Basic state services are non-existent in the region.
Indigenous people in the VRAEM are convinced by drug traffickers to grow coca , on the argument that the state will never help them out while the traffickers can provide development.
"Due to a lack of work, the sisters feel obligated to work at growing illegal coca and, in some cases, also the processing" of the leaves into cocaine, Cabecilla said. He also said there is a resurgence of narco-terrorism in the Pachitea area straddling the departments of Pasco and Huanuco.  
Peru is one of the world's top manufacturers of cocaine. Colombia and Bolivia are also major producers.