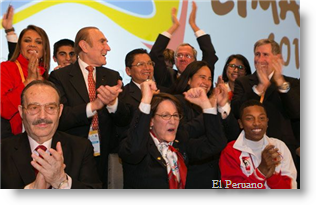 Lima was selected on Friday to host the Pan-American Games in 2019, beating out four other Latin American cities.
The Pan-American Sports Organization held its vote in Toronto, where the next Pan-American Games will be held in 2015.
Peru was elected in the first round, with 31 votes in favor, compared to nine votes for Santiago in Chile, nine votes for La Punta in Argentina and eight votes for Ciudad Bolivar in Venezuela, according to Peruvian daily La Republica.
On hand to celebrate the selection in Toronto were Jose Quiñones, president of the Peruvian National Olympic Committee, Premier Juan Jimenez, Lima Mayor Susana Villaran and the Minister of Education, Patricia Salas, as well as several sports stars.   Quiñones stressed the success of Peru's bid for the Games was the result of team effort between the different Peruvian institutions.
It will be the first time that Peru will host the games, which will be held from July 26 to August 9 in 2019.
Lima also bid for the 2015 Games, coming second with only 11 votes to Toronto's 42.  The Peruvian city had been considered the favourite throughout the 2019 campaign.
The Games will mean a huge economic and tourism boost for Lima, particularly due to the jobs it will create.
Lima's budget for the 2019 Pan Am Games is set at US$ 712 million, which will be allocated for building major facilities such as the first velodrome, a trak and field facility, aquatic facility, a field house as well as an athlete village for high-performance sports.
The Pan-Am Games began in 1951, and brings together more than 6,000 of the region's top athletes from 42 countries in the Americas who compete in over 40 disciplines.
Likewise, the Games means a big economic and tourist boost for Lima due to the jobs it will create as well as the upcoming renewal of cultural, sport and athletic facilities.