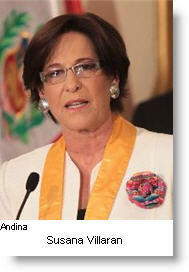 Lima's Mayor Susana Villaran is seeing a boost in support just over a month before residents in the Peruvian capital are to vote on whether they want to remove her from office early or allow her to finish her four-year term.
Pollster Datum reported that Villaran's approval rating has increased to 37 percent in February, the highest level since at least June 2012 and 10 percentage points above the previous month. Her disapproval rating has dropped 11 percentage points to 57 percent, the poll found.
The poll also showed an increase in support for Villaran in the recall vote, suggesting the referendum planned next month will be closer than previously thought. Villaran could be ousted from office if she losses the referendum, which is being organized by the mayor's political opponents.
Fourty-three percent of respondents said they will vote for Villaran to stay in office, up from 37 percent in January. While 51 percent say they will look to have Villaran booted out of office, down from 57 percent last month and 65 percent in November.
The poll of 376 people had a margin of error of 5.1 percentage points. It was done from February 1-5 and published in newspaper Gestion on Friday.
The increase in support for Villaran, who took office in 2011 as head of the left-wing Fuerza Social, comes as her campaign against the referendum is gaining momentum. Political posters calling on voters to support "No" have popped up across Lima in recent days, and on the Internet, while the mayor has also given several television and radio interviews.
Leading political analysts believe the campaign against Villaran has been led behind the scenes by Lima's previous mayor, Luis Castañeda, since people close to him have financed and led the recall move and congressional members of his party have openly supported the campaign. Castañeda is facing an investigation into corruption allegations.
Two-time former President Alan Garcia and his Apra party, which are also no strangers to corruption allegations, are backing the removal of Villaran. Analysts say that Garcia's support for the referendum is a ploy to increase his public appearance and prepare for a run at the 2016 presidential elections. Garcia was constitutionally barred from running in the 2011 election after serving from 2006 to 2011. Apra failed to run a presidential candidate and got hammered in the congressional elections.
Villaran has been credited with tackling several challenges in Lima, including a major plan to better modernize and organize public transport, and the successful relocation of the crime-ridden La Parada wholesale market to modern facilities on the outskirts at Santa Anita, a project that has been on the agenda for the past 40 years.