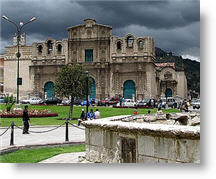 Tourism in Peru's northern Cajamarca region, which has been the site of violent protests recently against the large-scale gold project of Minas Conga, will suffer over the next few years, according to the National Tourism Chamber, Canatur.
Carlos Canales, the president of Canatur, said the anti-mining protests have practically pushed Cajamarca "off Peru's tourism map" for the medium-term future, daily El Comercio reported.
"Unfortunately, I predict that for two or three years, the region will be off the tourism map in Peru," Canales said.
Tourism officials in Cajamarca say tourism to the region has dropped 40 percent as a result of the dispute over Minas Conga's development. Canatur says that since December 2011, Cajamarca has lost 30 million soles (approximately $11 million) as a result of the downturn in visitors, with small and micro businesses being the most affected.
Protests against Minas Conga began last November, leading Yanacocha, owned by Newmont and Buenaventura, to put the project on hold. Opposition has remained strong during the ensuing months, with demonstrations escalating last week resulting in five deaths.
Peru's government declared a state of emergency shortly after, and efforts have been made to restart talks between protest leaders and the government in order to resolve the dispute.
Peru's main tourism attraction is Machu Picchu, in the southern region of Cusco. Protests in May against a mining operation in Cusco also turned deadly during clashes between police and demonstrators.  The protests were in the province of Espinar, however, in the southern corner of Cusco on the border with Arequipa, far from the capital and the tourism destinations north of the city.