Peruvian authorities believe the murder last month of Wilder Miranda, who at the time was the mayor of Aucayacu in Peru's coca growing Huallaga region, was carried out by drug traffickers settling scores with the mayor's jailed brother, according to daily La Republica.
Miranda was gunned down on October 30 by two hitmen on a motorcycle in the city of Huanuco. A similar attack occurred two days earlier.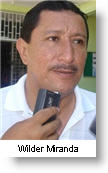 Wilder's brother, Segundo Miranda, is currently being held in Lima's Lurigancho prison. He was arrested in 2009 when he tried to send 100 kilograms of cocaine to Spain hidden in a boat shipping canned fish.
The drug gang that financed the shipment of cocaine began pressuring Segundo to return the money or send the drugs, according to police.
A few months after being arrested, Segundo made contact with Raul Romo, who helped him send drugs in mail by infiltrating Peru's post office, Serpost.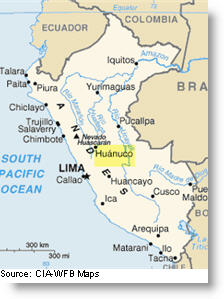 European accomplices would send letters to Lima with fake addresses, with the idea that they would be returned appearing unopened. However member's of Segundo's gang would open the letters and fill them with cocaine.
This was successful from August 2009 until January 2010, when Serpost supervisors and police discovered the activity. During the five months the operation was successful, Segundo and his accomplices were able to send 7 kilograms of cocaine to Madrid.
In addition to Spain, drug traffickers have also used Serpost to send cocaine to the United States, Italy and Holland.
Peru is the world's second producer of coca leaves, the raw material used to make cocaine (it was the largest producer until 1996), and the second largest producer of cocaine, estimated at 210 metric tons of potential pure cocaine in 2007, according to US intelligence reports.