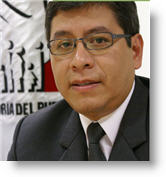 Peru's national ombudsman – the Defensoria del Pueblo – said Friday that the government needs to promote territorial planning to define areas exclusively for agriculture to avoid future social conflicts, state news agency Andina reported.
"A policy for land demarcation is basic so these activities can develop in a compatible way with the environment," said Ivan Lanegra, the ombudsman's representative on environmental and indigenous issues. "This way, controversies won't arise over the rights of neighboring peoples."
Conflicts have arisen in numerous industries during President Alan Garcia's administration, particularly Peru's key mining and energy sectors.
Recently, protests in southern Puno region resulted in the government revoking the Santa Ana concession from Canada's Bear Creek Mining and postponing new mining concessions. The Puno conflict, which involved several issues and resulted in the death of five people, is one of more than 200 througout the country that were reported by the ombudsman's office in May.
Lanegra said that current planning does not show clearly which areas are exclusive to each sector, which has resulted in the conflicts. Planning would help create an equilibrium between private investments in the extractive industries and the rights of indigenous communities, he said.
"It is necessary to have a law for planning," Lanegra said. "Once approved, the process could be carried out by Ceplan [the National Center for Strategic Planning] or by an office in the Environment Ministry or the Prime Minister's Office."
In addition to territorial planning, conflicts could be reduced by the approval of the prior consultation law in Congress as well as a training program for regional and local authorities.
Congress approved the prior consultation bill last year, however it was not signed into law by the President, who instead sent it back to legislators to be reworked.
The legislation is intended to allow Peru to comply with article 6 of the International Labor Organization's Convention 169, which requires the State to consult indigenous people prior to adopting administrative and legislative measures, as well as investment projects and development plans, that could affect their communities.