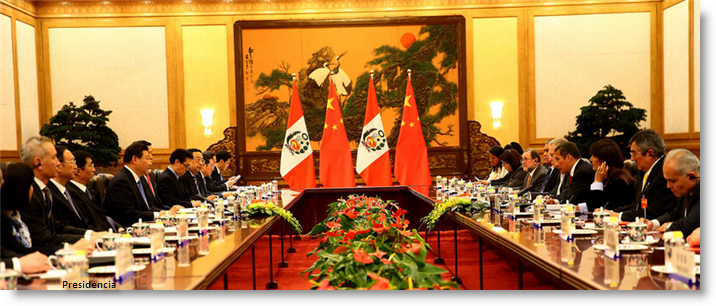 President Ollanta Humala and China's President Xi Jinping signed a series of agreements in Beijing on Wednesday, following the three day APEC Summit meetings.
The agreements consolidate several specific projects in the mining and petroleum industries, but the pioneering project is a memorandum of understanding to create with Brazil a Twin Ocean Railroad Connection, providing rail transport from coast to coast to increase trade between Pacific Rim countries and the Atlantic.
The agreement was signed by the Ministry of Transport and Communications of Peru and of Brazil with China's National Commission of Development and Reform.
The other agreements signed by President Humala and President Xi Jinping cover a memorandum of understanding on cooperation in the oil and gas industry signed by the Ministry of Energy and Mines and The China Petroleum Corporation; collaboration in the mining and gas sectors, signed by Peru and The China Minmetals Corporation; a donation by China of wheelchairs, signed by both Foreign Relations Ministries;  an Exchange of Notes on the project for a National Emergency Operations Center in Peru; a donation by China of $11.5 million within a technical cooperation agreement; and a memorandum of understanding to establish a strategic dialogue mechanism for economic cooperation
The signing ceremony was held in the Hebei Hall of the Great Hall of the People on Tian'anmen Square, following a work meeting of both heads of state with their cabinet members.