Congress met this morning in an extraordinary session to vote on creating a commission to investigate the sale of Petrotech Peruana, the country's third largest crude oil producer, to Ecopetrol of Colombia and Korea National Oil Corporation, Knoc.
The motion passed by a 43-37 vote, with five abstentions. The measure was put forth at the request of President Alan García. Among those who voted against the motion were members of three opposition parties — Unión Nacional, Acción Popular and Alianza Nacional.
On Feb 6, Ecopetrol of Colombia and Korea National Oil Corporation, Knoc, announced the completion of their acquisition of Petrotech Peruana and its parent company, Houston-based Offshore International Group, Inc.   Ecopetrol and Knoc each paid 50% of the $900 million price tag, and plan to invest $250m in Block Z2B.
Offshore International Group, Inc also has a holding in other companies that provide essential services in the exploration and production activities of Petrotech Peruana, particularly related to marine operations (drilling, diving and maritime transport services).
The political noise that has led to the motion in Congress comes from three angles.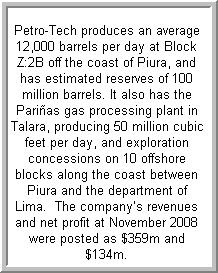 One is partly from sour grapes –PetroTech Peruana was originally the state-owned Petromar, acquired in a 1993 privatization bid by US-based Petrotech International and incorporated in Delaware as PetroTech Peruana SA. It is registered in Peru but is a foreign-owned company and has been sold in the US, and therefore Peru misses out on charging the capital gains tax on the sale. The transaction may be unfortunate, but not illegal.
A bill to prevent losing out on possible revenue from sales like this was put forth in Congress last year, but it was blocked at cabinet level on the grounds that it needed perfecting, and has yet to be returned to Congress.
Another angle of the protests is the case of PetroTech payments pending to the State from the 1990s that led to four reports by the Comptroller General's office and an arbitration that was never fully solved, as well as a labyrinth of what analyst Mirko Lauer describes as "amazing bargains granted by successive governments, executives moving on both sides of the counter (ed. Board members of the state-owned Perupetro also acting as private consultants to Petrotech), inexplicable legal benefits and openly illicit moves that no one was interested in penalizing…"
The reason most opposition politicians are against the recent Petrotech sale is because of allegations that the oil company contracted wiretapping services from a company called Business Track to record backroom negotiations last year between Perupetro officers and card-carrying Apra members to grant oil exploration concessions to Discover, a small Norwegian firm. The now famous petroaudios were delivered anonymously to journalist and former minister of the interior, Fernando Rospigliosi, who released them to the media. The result was a major shake-up in President Garcia's cabinet, the resignation of cabinet chief Jorge del Castillo, and an ongoing congressional investigation.
The accusations against Petrotech were made by Alberto Quimper, one of the backroom negotiators, vice-president of Perupetro at the time of the taped conversations and a former tax consultant to Petrotech.
The oil company's legal manager, Alberto Varillas, has emphatically denied that the company has any connection to the petro audios or any other related allegations.
Now accusations from high-level Apra members in government and Congress have spread to include allegations that Petrotech has even been possibly involved in the armed attack on Attorney General, Gladys Echaíz, who is leading the investigations of the illegal wiretapping cases.
The whole wiretapping imbroglio, which includes allegations against Navy intelligence personnel, so far involves one company, Business Track, now known to have been contracted recently by Congress to check any wiretapping in the congressional buildings. The discovery, of course, has led to accusations by opposition members of being wiretapped by the ruling party.
President García's request to Congress to investigate the sale of Petrotech is described as "amusing" by Congressman Carlos Bruce (Peru Posible), while op-ed writer Augusto Alvarez Rodrich suggests that rather than Petrotech, the one to be investigated should be President García himself, given that the executives of Ecopetrol and Knoc and the Colombian ambassador to Peru met García at the presidential palace twice in January this year, and Petrotech has been on the market since April 2008 (the initial price was $1.5 billion).
According to Jorge Pérez-Taiman, partner in the law firm of Muñiz Ramírez, Perez-Taiman & Luna Victoria, any attempt by Congress to contest the sale of Petrotech would be unconstitutional. If there are any claims on the oil concession contracts, "Perupetro can use the mechanisms for conflict resolutions included in the contracts," Pérez-Taiman told the daily La República.