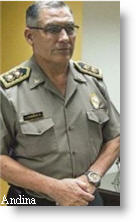 Peru's government has appointed a new police chief, part of the government's attempt to show it is serious about improving security following high-profile killings in Lima and a series of assassinations of local officials outside of the capital.
General Jorge Flores was appointed the director general of Peru's National Police, replacing General Raul Salazar who resigned last week. Flores was previously the inspector general of the national police, a position that is considered the third highest-ranking in the force.
Flores' appointment was announced in a supreme resolution published in newspaper El Peruano.
Salazar resigned last week after he came under growing criticism from Peruvian media, analysts and opposition politicians, following two brazen killings in Lima, as well as a series of other controversies during his time as the police chief. Salazar had said that "dark interests" were behind the campaign to remove him from office.
The daylight killings of a businessman in Lima, only blocks from two police stations, and an El Comercio photojournalist , the result of an attempted theft, led to an outcry in the Peruvian capital that security has deteriorated. President Ollanta Humala and Interior Minister Wilfredo Pedraza were also caught up in criticism that the government has failed to tackle crime in Lima, a city of some 9 million people. Humala saw his approval rating fall, while Pedraza's political opponents called for his resignation.
In the past several days, police have reported making progress in the cases. A Puerto Rican hitman, in his mid-20's, was arrested over the weekend for allegedly murdering the  El Comercio photojournalist Luis Choy, while police also said that one of the alleged victims of the attack on a public notary's office was actually involved in setting it up.
Police say that businessman Pascual Cusilayme planned the late February assault on the notary's office that resulted in the death of another man, according to El Comercio. Cusilayme and the victim were in the office completing a real-estate transaction when masked men broke in and robbed over $100,000 in cash that Cusilayme was carrying. He allegedly planned to have the funds stolen shortly after the transaction was completed, in order to recuperate the money at a later time.
While those two cases made front page headlines, of equal or greater concern, but less publicized, is the recent killings of several local government officials outside Lima. According to local media, four officials, including mayors and a regional vice president, were assassinated since December.
A growing crime wave outside of Lima has also raised serious concerns, leading some lawmakers to call for a national emergency.
"It is unfortunate what is happening," said opposition lawmaker Hector Becerril, who represents the northern region of Amazonas. "[President Humala] has to do something now, he has to take urgent measures."
Amazonas has seen two of the killings. Over the weekend, Wilder Cieza, the mayor of the district of Camporredondo, in Amazonas, was gunned down by a masked man near a police station, daily Correo reported.
Becerril said that Cieza had been threatened by a gang seeking cash in order to allow him to advance public construction works.
In February, the regional vice president of Amazonas, Augusto Wong, a physician, was killed by an under-aged assassin in the official's private health clinic. Wong had also received several threats prior to the killing.
In December, the mayor of the district of Angasmarca in La Libertad region, Diogenes Geldres, was killed by hitmen while handing out toys. The mayor of Casma, in Ancash region, Jose Montalban, was also gunned down in December.
In addition, Juan Gabriel Alipio, the mayor of Santiago de Chuco, a province in La Libertad, has requested police protection after he was threatened by a gang demanding $2,000.