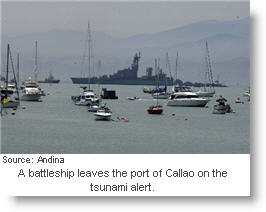 The tsunami alert along Peru's coast has been lifted, according to the Navy's hydrography and navigation office, following the arrival of the first wave early Friday evening, as a result of the massive earthquake that rocked Japan March 11.
The first wave touched the shore of Talara, on the north coast, in the afternoon and measured approximately 40 centimeters, arriving on the Lima coast towards 9pm measuring 20 centimeters.  There were no reportsof damages the length of Peru's coast, although the tide ebbed approximately 200 meters at San Andres, on the south coast at Pisco, reminiscent of the mild tsunami in 2007 following the massive earthquake off the Pisco coast.
As a precaution against a possible tsunami, Lima's government temporarily closed the Costa Verde coastal road to cars and pedestrians as of 4pm Friday, hours ahead of the expected arrival of the first wave.  Hospitals and the Civil Defense institute were also on alert.  The Ministry of Transport ordered the closing of the coastal Pan American Highway the length of the country until late evening.
Peru's ports were also closed, according to the president of National Port Authority, Frank Boyle. "We will be closing operations in the afternoon so ships can seek a safe harbor and we can at least prevent major damage," Boyle said.
Despite the precautions, President Alan Garcia called for calm saying the waves were not likely to cause damage.
"We should be very calm, but with sufficient caution in coastal areas to evacuate in the moment that the authorities give the alert," he said.
The entire Pacific has been put on alert since the quake, the largest in Japan's history, which resulted in a tsunami on Japan's eastern coast that caused widespread destruction and killed hundreds, according to early reports.  Replica earthquakes, some as strong as 7º Richter, will continue in the coming days and could also trigger a new tsunami.