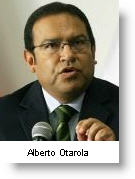 Peru's Defense and Interior ministers, a mere six months since being appointed to their posts, resigned on Thursday amid a political uproar over an operation to rescue hostages and capture Shining Path rebels who had kidnapped the 36 natural gas workers last month.
The ministers faced a censure in Congress to be voted on Saturday. Opposition lawmakers had said they had enough votes to pass the non-confidence vote, which would have been a major blow to President Ollanta Humala's administration.
The prime minister's office confirmed that Defense Minister Alberto Otarola and Interior Minister Daniel Lozada handed in their resignations.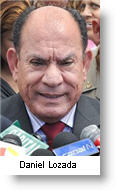 Premier Oscar Valdes earlier in the week said he would resign if his cabinet ministers were censured, but later said he would remain if President Humala requested him to do so. The President has been in Japan and South Korea during this political upheaval.
The ministers were appointed to their posts late last year, when Humala made major changes in his first cabinet.
In the past month, nine police and military officers have been killed in the Apurimac and Ene river valley, or VRAE, at the hands of Shining Path remnants.  Poor strategy and coordination were largely responsible for the casualties, particularly in the hostages operation. 
The Shining Path has transformed from a 1980s Maoist-inspired insurgency bent on overthrowing the state through bloody conflict, to a much smaller but heavily-armed group that is financed from the country's growing drug trade.
The call for the ministers' resignation also raised again the demand for a change in strategy in the VRAE, although many critics are quick to point out that the government has never had a strategy for the area, neither now nor since the Fujimori government three administrations ago. 
"I hope that this implies a change in the anti-insurgency strategy that has been applied since 2006 by the military," said Fernando Rospigliosi, Interior minister during the Toledo administration, was quoted as saying by daily El Comercio. "Obviously, the planning of the fight against the narco-terrorists is wrong."
He said the new leaders of the state's strategy should be "civilians, who have real leadership in the sector and known the problem in the VRAE."