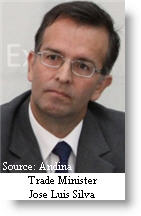 Peruvian non-traditional exports to Canada, the country's fourth biggest trade partner, could rise by more than 20 percent this year thanks to a free trade agreement that came into force in 2009, a top Peruvian government official said.
Jose Luis Silva, Peru's Trade and Tourism Minister, said that Peru's non-traditional exports to Canada have increased to $96 million in 2011 from $48 million in 2009 as products from the fishing sector jumped 118 percent, 48 percent from agriculture and 23 percent from textiles.
"In the agriculture, there is a lot to still develop because the volume of total exports is still small for the potential market in Canada," said Silva, according to state news agency Andina.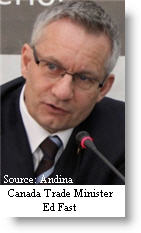 Silva made the comments following a meeting on Wednesday with Canada's Trade Minister, Ed Fast, who was in Lima to strengthen trade and investment ties with Peru.
A major point on the trade agenda is assistance to small and medium businesses to work towards a stronger share in the export market.
Peru's total exports to Canada in 2011 reached $4.18 billion. Ninety-seven percent of that value was from traditional exports, namely commodities.  There is potential for growth in cacao and fresh and processed asparagus, sweet peppers, mandarin oranges, olives and onions. 
Canadian exports to Peru totaled $583 million in 2011, namely in wheat, legumes and commercial and industrial machinery.